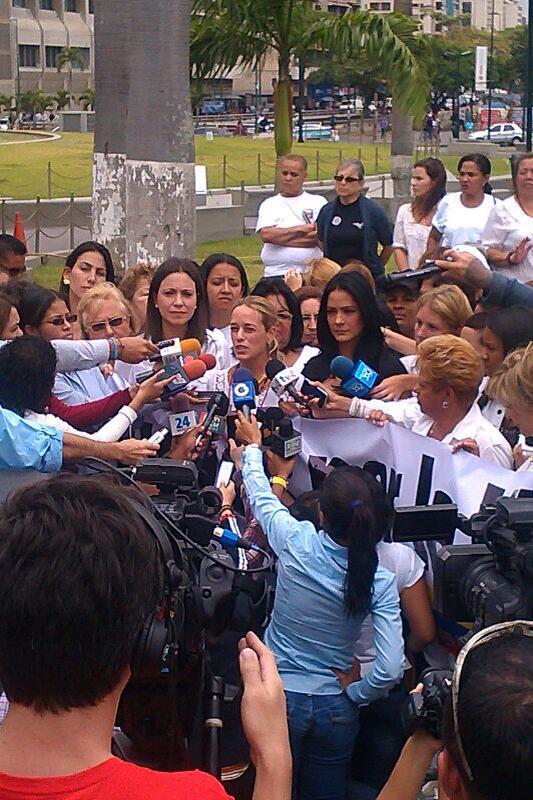 One of Venezuela's best known opposition leaders, Maria Corina Machado, and other female activists called on Venezuelan women to participate in a march under the slogan #WomenForLife scheduled for 10 AM this 26th of February.  The purpose of the march is to "silently and peacefully march" to the headquarters of the National Guard in Caracas to demand justice for the many students and activists who have been detained, mistreated or killed for civically demonstrating out on the streets against the current regime.
Machado and other known figures such as Lilian Tintori, wife of recently imprisoned opposition leader Leopoldo Lopez, and actress Norkys Batista took part in a press conference on Monday in the capital city of Caracas to announce the details of the march, which is being promoted through Twitter and other social media outlets with hashtags #WomenForLife and #26F (the latter making reference to the date of the demonstration; February 26th).
The organizers of the event are asking "mothers, grandmothers and sisters" to participate and to wear white during the march.
This call to action surges amid days of street protests carried out mainly by students who oppose the current regime in Venezuela led by Nicolas Maduro.  Forces of that same government have used street thugs and armed officials to violently attack the demonstrators, already causing more than 13 confirmed deaths and numerous injuries.  Many others, including known opposition members like Leopoldo Lopez, have been imprisoned.
"In all of Venezuela, we will walk dressed in white, and in silence, to the headquarters of the National Guards to challenge the military personnel to stop the violence", tweeted Maria Corina on her account (@MariaCorinaYA).