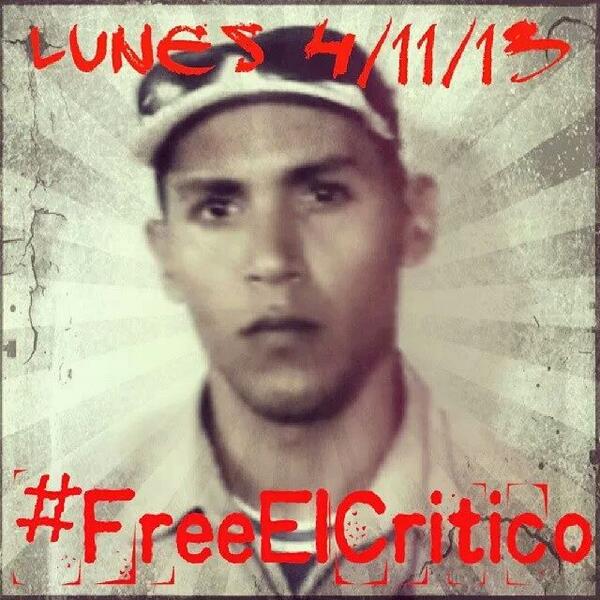 Activists on social networks are convoking a "tweet-protest" using #FreeElCritico starting this Monday, November 1st, at  AM in solidarity with Cuban dissident rapper and political prisoner Angel Yunier Remon Arzuaga, known best as "El Critico" form the hip-hop duo The Unwanted Children (Los Hijos Que Nadie Quiso).
The call surges while Remon Arzuaga is in "critical and urgent condition" in the Carlos Manuel de Cespedes Hospital in Bayamo due to a hunger and thirst strike he has been carrying out for more than 17 days.  His wife, Yudisbel Roseyo, has been in the hospital since then although the authorities to not let her pass to see him, except on one brief occasion.  During that encounter, the musician and activist  told her to please not ask him to stop the strike.  He affirms that he would take his struggle until his "freedom or death".  

Angel Yunier, who is also a member of the Patriotic Union of Cuba (UNPACU), has been jailed since March 26th after a series of acts of repudiation against his home.  He confronted the State-organized mobs with a discourse, calling on them to abandon their fear and double moral and join the opposition.  He was arrested under the orders of State Security captain Julio Cesar as well as other repressors who accuse him of "attempt", although there is no proof and there has not yet been a trial.  Recently, the regime announced that it asks 8 years of prison time for Remon.  On that same day, he was brutally beat (October 15th) in the Las Mangas Prison of Bayamo, where he has spent most of his captivity.  Remon was also placed in a sealed off isolation cell for a number of days.  It was then that he started his hunger strike demanding his liberation.
Yudisbel Roseyo confirmed that Remon was beat once again while already on hunger strike. His health is deplorable, as he also suffers from chronic gastritis and even contracted cholera during the month of July – a period which did much damage to his body.  His heart rhythm is very slow and his blood pressure is significantly low.  Relatives and dissidents have expressed extreme worry regarding the situation and have said that Remon Arzuaga is very near death.  Meanwhile, paramilitary forces of the dictatorship have the Hospital under custody and frequently expel activists and prohibit Yudisbel from seeing her husband.
With the hashtag #FreeElCritico Twitter users will demand his freedom, just as they did on Friday, November 1st, with also unjustly jailed Lady in White Sonia Garro Alfonso, using #FreeSonia.  Both are prisoners for motives of conscience and have been severely mistreated while behind bars.  Dissident Roilan Alvarez, also a detained activists from UNPACU, is also on hunger strike.  In the case of Alvarez, his protest has lasted more than 20 days and he has taken a position similar to that of Remon's – "freedom or death".  His health is also critical.
Cuban artists in exile Gloria Estefan (@GloriaEstefan) and Albita Rodriguez (@AlbitaCantante) have retweeted the tweet-protest announcement on their respective Twitter account, as have politicians, human rights organizations and numerous individuals who work towards the freedom of Cuba.
We cannot allow any more deaths of young Cubans because of a regime which does not allow them to freely express themselves.  Cuba needs the creativity, energy and patriotism of people like "El Critico".  Pass it on, don't remain silent.