September 8th 2013 was yet another anniversary of the appearance of the Virgin of Charity, Patron Saint of Cuba, but this did not keep the totalitarian system on the island from practicing their accustomed acts of harassment and repression against Ladies in White and the opposition in general.  However, members of the pro-freedom movement took to the streets and, in what was a high turnout throughout the country, participated in Masses and processions for "Cachita", as Cuba's Virgin is popularly referred to in folklore.
Matanzas province witnessed its 9th consecutive Sunday of police violence against the Ladies and other dissidents, specifically in the cities of Cardenas and Colon.
Since early morning, former political prisoner of conscience Ivan Hernandez Carrillo (in the city of Colon) used his Twitter account (@ivanlibre) to explain what was happening.  Eventually, he documented a total of 27 arrests among Ladies in White and other opposition members.
Hernandez was one of the detainees, as were also former political prisoners Felix Navarro and Angel Moya Acosta.  Other activists violently arrested that morning were Francisco Rangel, William Acevedo Roque, Jose Hernandez Lopez and Luis Alberto Amaya Fleitas.
In regards to his arrest, Ivan said that they used "2 uniformed police officials and 3 secret political police agents dressed in civilian clothing".  The repressors forcefully lowered Ivan's pants and then proceeded to shove him inside a police vehicle.
Regardless, the renown dissident pointed out that 8 Ladies in White assisted Mass dedicated to the Virgin of Charity in the city of Colon while another 6 women managed to do so in the city of Cardenas.  But they too were lashed out against.
Leticia Ramos, the representative of the Ladies for the province of Matanzas, tells this blog that "upon leaving Mass in Cardenas, the Ladies in White were attacked by the political police and mobs made up and organized by State Security.  In the case of this Sunday, we were not as severely beat as in the past but there was still violence".
Ramos remained detained from 9 AM to 2 PM, confined to a cell in the National Revolutionary Police Unit of the town known as Marti.  She denounces that other women like Mercedes de la Guardia Hernandez and Odalys Hernandez were left abandoned in desolate fields in a place called Limonal.  Something similar happened to Marisol Fernandez and Yamila Senda Ruiz, while Katuiska Rodriguez and Elizabeth Pacheco were taken to the Cardenas Center for Investigations where they "were accused of creating 'public disorder' and 'disobedience' and then handed a document with these accusations.  They both refused to sign it", said Leticia.
Similarly, in Colon, the Ladies in White were intercepted by the political police as soon as they walked out of Mass, being subjected to aggressive arrests while agents shouted threats and offensive words at them.  Among the detainees were women such as Sayli Navarro, Tania Echeverria and Asuncion Carrillo.
Ivan Hernandez published a series of photos on Twitter documenting this repression: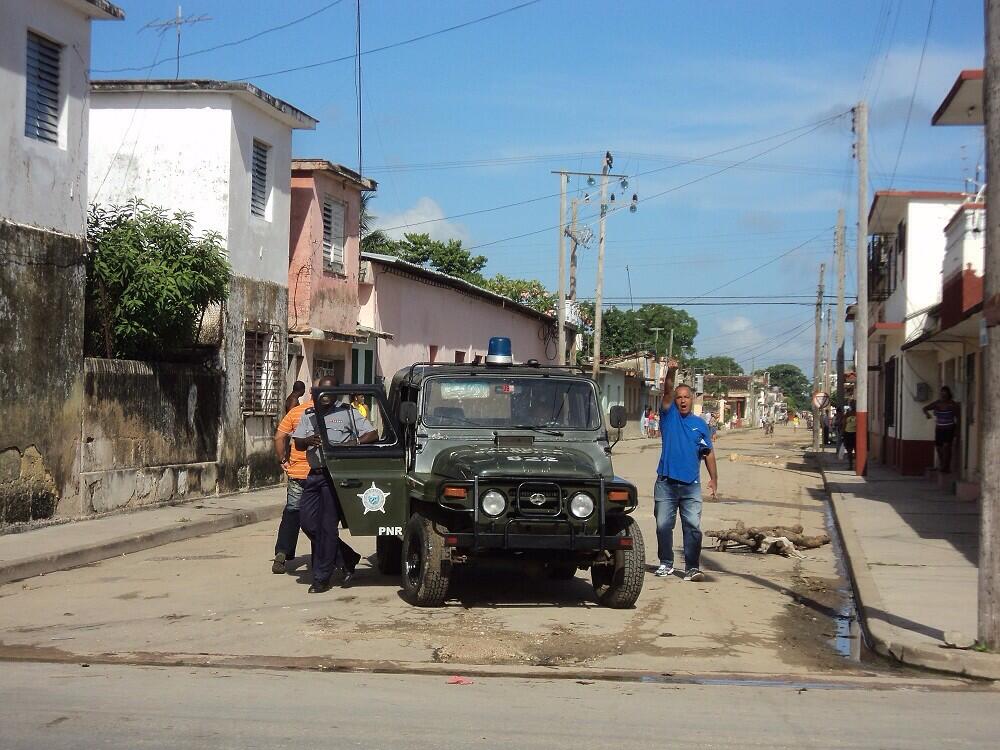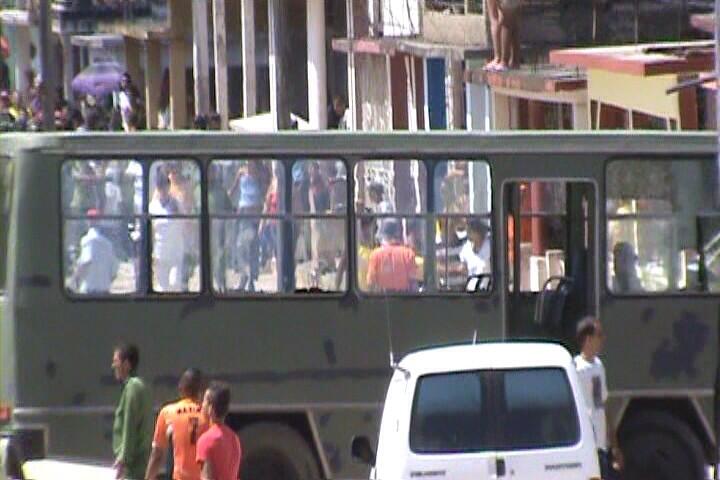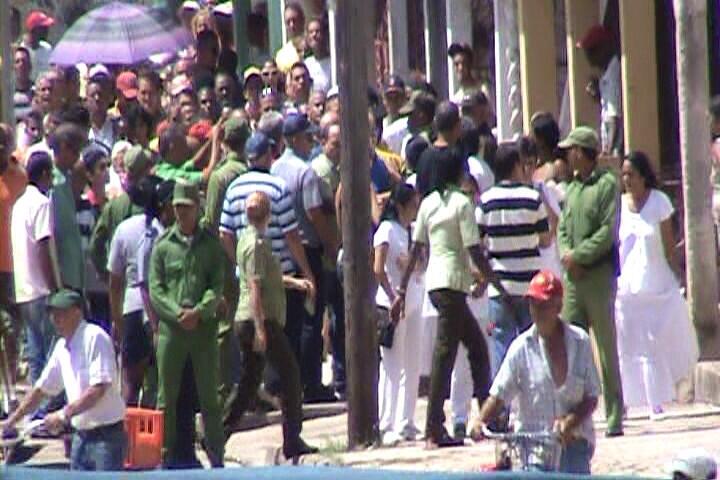 Meanwhile, over at Havana – Cuba's capital – a total of 80 Ladies in White managed to march down the centric 5th Avenue, carrying white flowers and participating in Mass in honor of the Virgin and praying for the liberation of all political prisoners, according to the independent news agency 'Hablemos Press'.
In the Eastern region of the country, dissidents and Ladies in White massively participated in Mass at the emblematic National Shrine of the Virgin of Charity in Santiago de Cuba.
The Patriotic Union of Cuba (UNPACU) sent out a press release in which they confirm that 201 of its members accompanied 57 Ladies in White to Mass dedicated to the Virgin.  They also published the following video of the event:
Jose Daniel Ferrer Garcia, former political prisoner and leader of UNPACU, wrote on Twitter (@jdanielferrer) that "managing to get 200 activists in a public place and more-so on a day like that Virgin's is not an easy task in totalitarian Cuba", highlighting that the result constituted a victory.
Ferrer added that UNPACU activists which were at the Sanctuary took shirts and other accessories which identified themselves as human rights defenders.  The event, according to the dissident, took place in front of thousands of devotees, both everyday Cubans and international tourists.  None of these groups repudiated the activists.  He assures that the political police "was very nervous" and did not know how to respond.
In Guantanamo and Holguin it was confirmed that various Ladies in White made it to Mass.
Meanwhile, in the Eastern town of Bayamo another 8 Ladies in White managed to surpass police cordons and arrive at Mass, according to Yudibsel Roseyo Mojena, a member of the women's group and wife of political prisoners and dissident rapper Angel Yunier Remon Arzuaga.
"Since Saturday, State Security had been keeping a close eye on us but we managed to make it to Mass anyway and participate afterward in the procession for the Virgin", explained the young Cuban woman.  "During the entire time of the procession agents of State Security and of the National Revolutionary Police were watching the Ladies in White.  The vigilance lasted all day".
Yudisbel adds that the majority of the town took part in the procession – more proof that the dictatorship was never able to do away with Cuban's devotion to their Virgin.  A number of independent sources confirmed that there was massive turn out of everyday people in other regions throughout the island as well.
In Miami (the Cuban exile) there was also an emotional Mass and concert in honor of Cachita.  A large portion of the Cuban-American community participated in this annual event as did figures of the peaceful resistance, such as Rosa Maria Paya, who offered a speech and prayer in favor of unity, peace and freedom.