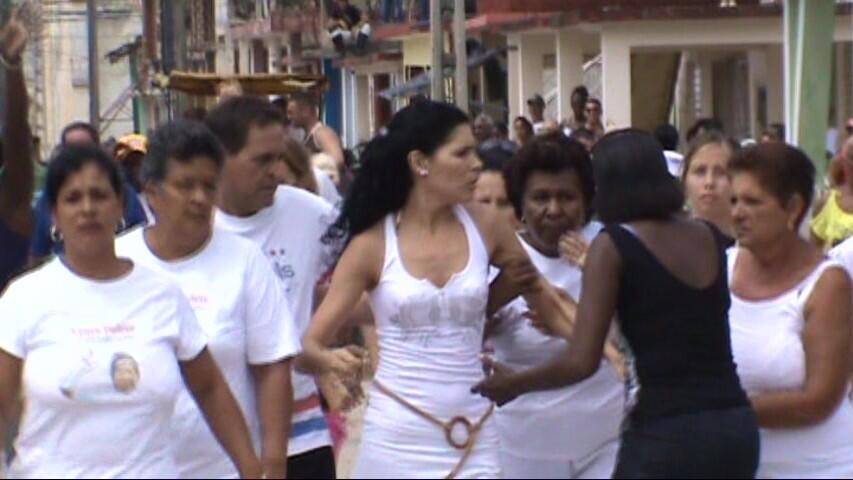 Many words or phrases can describe what happened to the Ladies in White and other dissidents at the hands of the political police and State Security on the morning of Sunday, July 14th, in the province of Matanzas, but brutality would be the best choice, considering the amount of punches, kicks, arrests and injections with mysterious substances against peaceful men and women which took place.
One of the main recipients of this state-sponsored violence was Leticia Ramos Herreria, representative of the female group in the central province of Matanzas. Ramos recounts that 11 women in the city of Cardenas carried out their accustomed march in the morning, participating in Mass to pray for the liberation of all political prisoners on the island. But upon stepping out of the temple and just before starting to carry out their march in return, State Security intercepted the demonstration with severe violence.
Leticia explains that they were "intercepted by paramilitary mobs organized by State Security. They tore the flowers we were carrying and then, in my case, they hit me with a piece of wood on the shoulder, which is inflamed right now. I have scratches and bruises all over my body".
The blows were also for the other 10 women, while Ramos Herreria was victim of a mysterious injection.
"A State Security official, whose name I could not confirm but who had beat me previously on March 19th of this year, grabbed and twisted my right arm, put it under hers and pinched me with 3 needles. I have been bleeding in that spot and I do not know what those injections contained", denounced the dissident, highlighting that during that night she began to feel nauseous and very weak.
The women were "verbally threatened by the police, who told them that if they continued assisting church they were going to kill them, while one woman from the Federation (a government organization) said she was going to cut our faces if we kept marching". Ramos Herreria also pointed out that "there are other Ladies in White in the city of Cardenas who have bruises on their eyes, scratches on their backs, injuries on their feet and more…it was a brutal attack carried out by State Security officials".
Marisol Fernández, another member of the Ladies in White, and dissident Javier Erbello, were also injected by needles that morning.
Ramos Herreria said that "anything that may happen to any Lady in White in Matanzas or in any part of Cuba, State Security are the responsible ones. If they injected some sort of virus in me, the culprits are State Security, especially Colonel Joaquin, who is an assassin and who was in charge of the entire operation".
Former political prisoners Ivan Hernandez Carrillo and Felix Navarro Rodriguez, as well as human rights activist Lazaro Diaz Danchez, suffered the same fate in the city of Colon, Matanzas, when they were beat and arrested alongside other Ladies in White.
(This audio captures the moment these activists were being harassed and beat by paramilitary mobs in Colon. In Spanish, via @mspianoteacher):
https://soundcloud.com/user174183585/represion-a-damas-de-blanco-y
Ivan Hernandez informed on his Twitter account (@ivanlibre) when he was released a few hours later, explaining that "they took me to a town called 6 de Agosto. They hit me a lot, especially on my stomach and on my back".
The dissident adds that "as the agents were beating me they told me: 'We are just waiting for the orders to kill all of you'".
Meanwhile, Felix Navarro suffered a fractured rib while Lazaro Diaz Sanchez was injured on his head.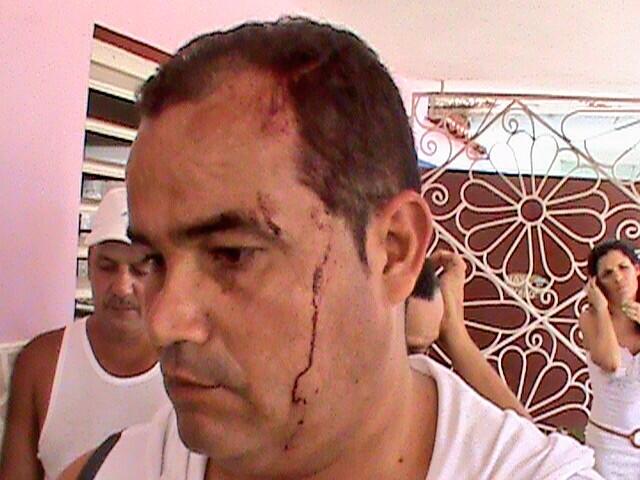 Another tweet sent by Hernandez Carrillo detailed that 8 Ladies in White were arrested in Pinar del Rio, the westernmost province of Cuba. However, 3 women were able to march and assist Mass there, surpassing police cordons.
In the capital – Havana – 54 Ladies in White marched to and from Santa Rita Catholic Church, while 5 were able to do so in Santa Clara Villa Clara. (In addition to the 12 in Colon and 11 in Cardenas, Matanzas that were able to make it but who suffered repression afterward).
In the Eastern province of Holguin, 26 Ladies in White assisted Mass and 50 of them managed to do so in El Cobre National Shrine in Santiago de Cuba. In Bayamo 5 marched and 11 did so in Guantanamo.
Ciego de Avila province had 4 Ladies in White who arrived to Mass while in Isla de Pinos 2 women marched.
The women dedicated their march that Sunday to the 19th anniversary of the '13 de Marzo' Tugboat Massacre, where dozens of children, women and men were gunned down and drowned by regime forces as they tried to flee the country in a tugboat.
The Cuban dictatorship has increased violence against dissidents of all organizations on the island, but all indications point out that this has been due to the strengthening of the pro-freedom movement in the country as well as an increase in its members, as is the case of the Ladies in White.
On her part, Leticia Ramos reiterates that "we will continue going to church on Sunday to pray for the freedom of Cuba and for the liberation of all political prisoners, and we are going to continue demanding that human rights be respected in Cuba. The streets belong to Cubans, and I am Cuban, and I am not leaving from here".
"We are going to keep taking to the streets and going to church. We will keep marching".
—
Para mas detalles desde Cuba, contactar a:
Leticia Ramos Herrería – Cell Phone: +52-481-807
Iván Hernández Carrillo – Cell Phone: +52-599-366 / Twitter: @ivanlibre
Sayli Navarro – Cell Phone: +52-731-652 / Twitter: @SayliNavarro