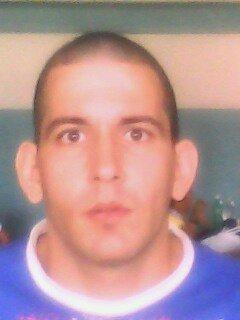 After a year and a half in prison, after he was accused (without proof) of "sacrificing a cow" (in other words, of having killed a cow) and sentenced to 10 years, the Matanzas resident Michel Martinez Perez has been released on the night of Thursday, March 14th, according to a report by former political prisoner of conscience Ivan Hernandez Carrillo on his Twitter account (@ivanlibre).  Hernandez added that the liberation of Martinez is all thanks to the solidarity which he received on behalf of people inside and outside of Cuba, as well as the pressure generated against the regime.
Seeing as the authorities had refused to re-open his case, Michel Martinez Perez carried out various hunger strikes to defend his innocence, which put his life at risk each time.  The most recent lasted more than 40 days and ended in December of 2012.  His mother, Lazara Perez, turned to human rights activists in the province of Matanzas, especially Ivan Hernandez, to denounce her son's case after all governmental institutions she had visited refused to offer her assistance, despite her persistence.  The dissidents responded by spreading all the details of the situation through Twitter, audios, and written reports.  This was quickly re-posted outside of Cuba through diverse media outlets, especially independent blogs and through other social networks.
"Michel called me on the phone as soon as he got to his house.  He greatly appreciates all the voices which rose in his favor", read one tweet by Hernandez Carrillo.  Another said "in the name of Michel, I thank all those exiled Cubans who contributed with their denouncements for his freedom".
It has been proven once again that solidarity with those who are persecuted in the island and pressure against the regime does, in fact, work.  Thanks to this, a mother can now embrace her son and have him home again, without worrying that his life runs danger in a dungeon because of something he did not do.